Bascom Trivia
Bascom companies, landmarks, postcards.... are found from all across America, and many bear the Bascom name in their title. Here are just a few.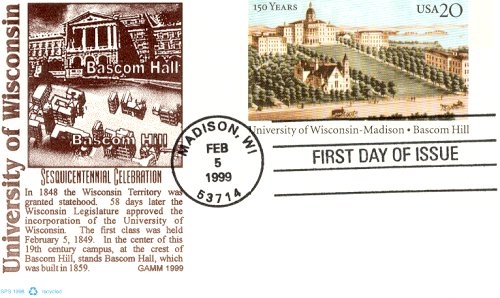 Numerous landmarks can be attributed to the Reverend John Bascom [1827-1911] (BASCOM lineage: Thomas - Thomas II - Thomas III - Samuel - Samuel II - Aaron - John.)
He was president at the University of Wisconsin and Bascom Hall and the Bascom Hill on which it sits were named for him. John Bascom helped sponsor the publication of the 1870 Bascom genealogy. John was involved with the creation of the Mt. Greylock Reservation, the highest mountain in Massachusetts. The lodge at the top of Mt. Greylock is named Bascom Lodge and can be found on several old photo postcards. Today it is an AMC hiking shelter. Read more about him on the famous Bascoms page.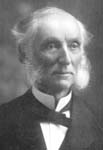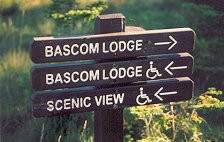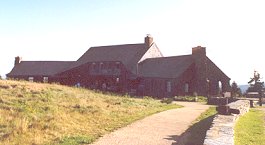 ---
The Bascom-Louise Hotel, in Highlands, North Carolina was built by Henry Martin Bascom [1853-1942] (Bascom lineage: Thomas - Ezekiel - Elias - Reuben - Reuben - Carlos - Henry.)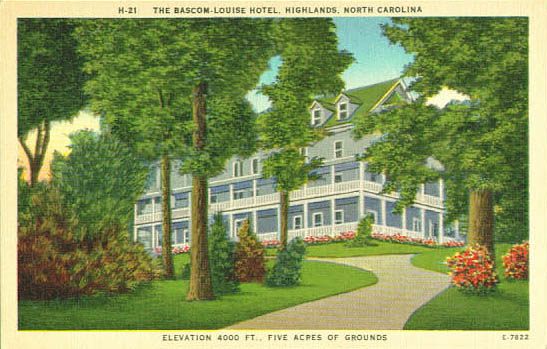 Henry was an early founder of the town of Highlands and was mayor for several terms. First named Davis House, after his wife's aunt, the inn was known by several names including Tricemont Terrace, Kings Inn, and Lee's Inn. It burned in 1982.
Henry's daughter Louise Rand Bascom married Watson Barratt. Louise wrote for Harper's Weekly, Good Housekeeping, Ladies Home Journal, and co-authored the book "New York in Seven Days." Mr. Barratt was a scenic designer and theatrical producer in New York. Be sure to visit the Highlands Historical Society web site.
---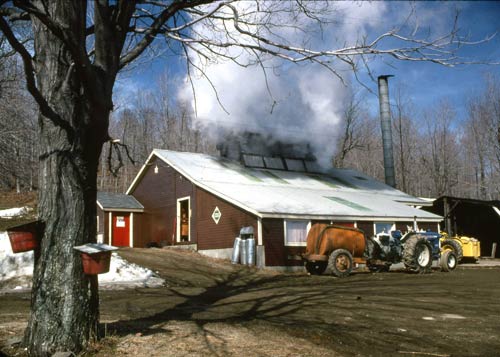 Pictured is "Bascom's Sugar House" as it was known and looked in the early 1980s. Since about 1853 the Bascoms in Acworth, NH have been producing maple syrup. Ken Bascom was owner, and also president of the Bascom Reunion Association. Today his son Bruce Bascom owns the business and has expanded it considerably. Bascom Maple Farms produces upwards of 20,000 gallons of maple syrup annually, more than anyone else in the U. S. For more information visit the company web sites Bascom Maple or Maple Source. (Bascom lineage: Thomas - Thomas II - Thomas III - Ezekiel - Elias - Reuben - Elisha - Martin - James - Eric - Ken - Bruce)
---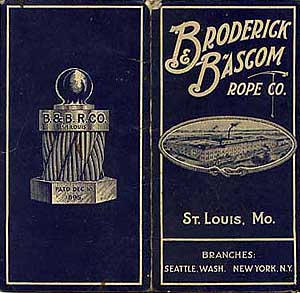 Joseph Dayton Bascom [1849-1928] was co-founder of the Broderick & Bascom wire rope company of St. Louis. Their steel cables were used in hundreds of construction projects across the United States in bridges, mines, railroads, elevators, and cranes. This booklet pictured, comes from the 1904 World's Fair. At that time they had produced the longest spool of wire rope in the world, and it took 42 mules to move it. The paperweight pictured is made from a short section of twisted cable. Their signature rope had a yellow strand twisted into the cable. (Bascom lineage: Thomas - Thomas II - Thomas III - Jonathan - Elisha - King - Jonathan - Joseph)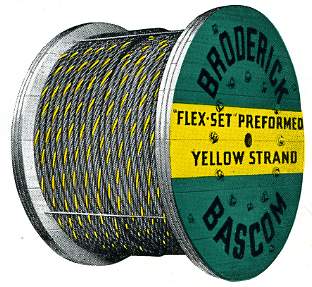 ---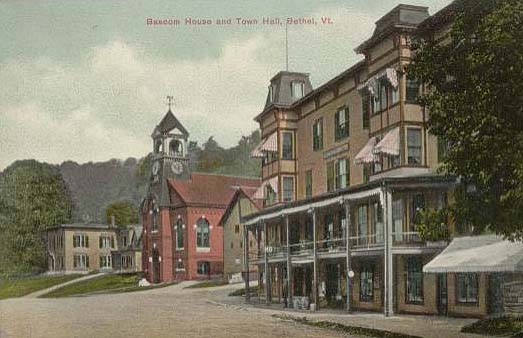 The Bascom Hotel of Bethel, Vermont was built in 1816 by Simon Babbit. It was known by several names including Babbit's Tavern, Hotel Bascom, Hotel Emery, and Bethel Inn. It burned in 1980. For a period it was run by Frank H. Bascom [1847-1890] and wife Mary Gilson.
(Bascom lineage: Thomas - Thomas II - Thomas III - Ezekiel - Elias - Elisha - Ira - Frank)
---
Fort Bascom on the Canadian River in New Mexico was built in 1863 and abandoned by 1870. It was one of a series of forts used to monitor the Kiowas and Comanche Indians of that area. The fort was named to honor Captain George Bascom who died in 1862 fighting for the Union at the Civil War Battle of Valverde in New Mexico.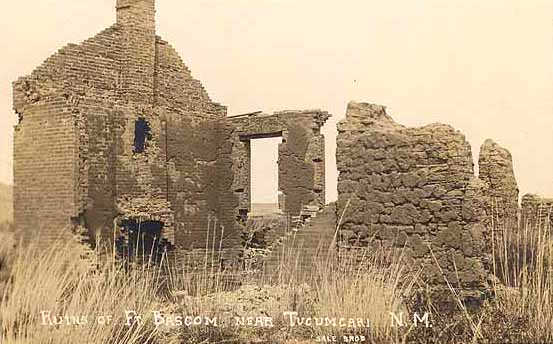 (BASCOM lineage: Thomas - Thomas II - Thomas III - Jonathan - Jonathan II - Alpheus - Sylvanus - George)
Some additional Fort Bascom photos are on the net. Also see the National Park Service page for more information.
---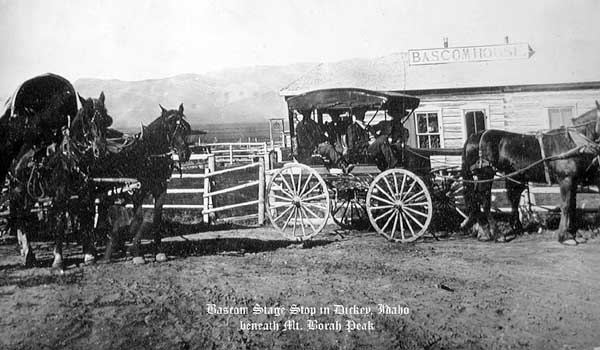 The Bascom Stage Stop in Dickey, Idaho is still there today.
(BASCOM lineage: Thomas - Thomas II - Thomas III - Samuel - Samuel II - Aaron - James - Edward - Edward II)